Tate Langdon
American Horror Story 1: Murder House
Within the first episodes of the first season fans all over the world fell in love with murderous and troubled Evan's character Tate Langdon and with an actor himself. Tate and Violet's story in a show was a psychotic dream boat that took viewers to a shocking and unexpected cruise that launched actors career and skyrocketed his popularity almost over night. Playing a villain came naturally for Peters afterward and Tate has been one of the favorite Evan's characters on the show so far (up to a 7th season):
Mr. March (AHS 5: Hotel) has been my favorite so far. I like Tate a lot and I like Mr. March. Playing the villain is really fun–especially a character as colorful as Mr. March–and just that 1930s art deco craziness that he had going on, with the whiskey drinking, smoking, suit-wearing kind of guy. It was a very fun role to play… I like playing the villain, but I like trying to figure out why they are that way and trying to sympathize with them a little bit in some way. Maybe some people are innately evil, but then there's always something that sort of pushes them over the edge and makes them act on those thoughts or feelings, so I always try to figure out what that was and try to give it some sort of justification so that I'm not just playing evil for evil's sake. [deadline.com]
When asked on which AHS character he would like to reprise, Evan Peters chose Tate Langdon over every other character he has played on the show (2016 June):
I'd want to play Tate. I want to see what's going on with that animal. (Is) he still in that house, trapped? Or maybe even see him, you know, before everything went totally haywire, to sort of see that lighter side of him. Maybe a little bit more about what turned him into what he became. I think that would be interesting. I don't know how (showrunners) would do that. [moviepilot.com]
Kit Walker
American Horror Story 2: Asylum
Kit Walker was probably the most if not the only heroic Peter's character in AHS. It was a very different and a new role for the actor and he nailed it. It didn't release Evan entirely from the grasp of Tate Langdon's charms that bewitched his fans, but it definitely uncovered how diverse and dynamic the actor can be. And he's a real sweetheart here as well, hitting it on with even two of his co-stars and helping to defend interracial marriages in the process.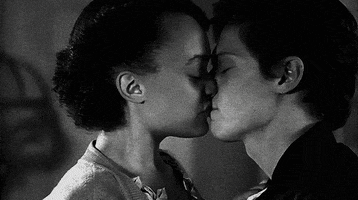 Here's this incredibly funny interview I found on Youtube about how certain garment malfunctions during a scene and Evan Peters ends up flashing Jessica Lange. Unfortunately, we got to see only his bare ass from that same scene in the series. I wonder if they have kept it somewhere as personal show-makers' bloopers. I know I would've…
Kyle Spencer
American Horror Story 3: Coven
Taissa Farmiga who played Violet in season 1 of AHS came back for the third season. The short-lived moment in the first episode when entirely new characters (late Tate and Violet from the first season) saw each other for the first time as if they've been looking for one another for their whole lives made fans jump from their seats and (probably) sing. Well, I was like glued to my chair at the moment, but definitely singing inside. Although it didn't turn out the way all the teenage girls wanted and enraged a lot of fans that have been waiting for the couple's reunion, the unexpected turn of events made us see how well Evan Peters can play a grunting, horny franken-zombie killing, and fucking women. And since some of it wasn't exactly new, it was still interesting and worth the wait. Kind of…
Before he started shooting for the third season of AHS the actor admitted to being most worried not about the possible torturous scenes but stripping down for the camera again.
How many butt shots am I gonna have to do this season? [huffingtonpost.com]
Jimmy Darling
American Horror Story 4: Freak Show
Evan Peters as Jimmy Darling, a good boy from the wrong side of the tracks, and his infamous lobster hands. Even deformed and reduced to a traveling circus actor, Evan's character couldn't avoid looking and being sexy and wanted. Working as a private "masturbator" for women on a side, Jimmy surprised us, made us laugh and also care for the character's well-being. Most importantly, I couldn't stop wondering after what I saw and heard on the show, how would it feel like…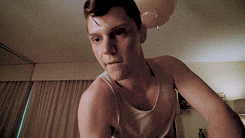 James March
American Horror Story 5: Hotel
Evan Peters revealed that playing his darkest character (up to a 7th season), mass murderer and builder of the Hotel Cortez, Mr. James March, within the franchise made the fifth installment especially chilling. The character was inspired by H. H. Holmes, America's first serial killer.
I would be scared of me. I would definitely be scared of me… He's got a lot of external qualities and things. He's just fun to play and he's probably the most evil character that I've played in the series. He surpasses Tate in that area.
The actor speaks about filming American Horror Story: Hotel and how working on a set of this bloody horror franchise affected him over time:
There was one point, I won't say what part it was, but I was sitting there and there was a lot of blood and it was definitely an intense moment. I was sitting there and we were in between takes and I kind of stood there and said, "Wow man. I've done five seasons and this is starting to really get to me. It's starting to get a little weird. I'm starting to see things a little differently. I think I've got to kind of step out for a minute and get back to reality because you become desensitized to it." ….But at the end of the day, it's a TV show and you can separate the two and leave work at home. That's what's so cool about being with this crew and the same cast. That everybody sort of knows everybody so it's kind of like wow, here we go again. We're pretty much all insane and we're all kind of together on it making this crazy thing. It's nice to see friendly faces in such a crazy atmosphere so it's all good. [variety.com]
More about the Hotel from Evan Peters lips in this interview (just look, how cute Evan is when he talks about his fans!):
When asked about some of the awkward sexual and violent scenes in the show Evan answered:
I blocked them out. I'm like, "I can't even think about it." There's a scene where I'm having sex and cutting this girl up. I didn't know how I was going to do it. I was in my trailer trying to work it out. It's the most ridiculous thing I've ever done in my entire life. And then to top it all off, you have to drop your drawers and be naked while you're doing it. It was weird. Very, very weird. At one point, they had to have me tape… never mind. I don't even want to go there. I talked to makeup and I said, "I want to be like a shark with all those scars on them," so they gave me some really cool back scars and that sort of helped me get out of myself and get into Mr. March. God love her, the poor girl who was on the receiving end was very gracious and made it very easy to do. [deadline.com]
Edward and Rory
American Horror Story 6: Roanoke
It was fun while it lasted. The fan-favorite actor appeared as two different characters, but only in two episodes, which came as a major surprise to pretty much every AHS fan. Here's a fun quote from a decent ranking of all Evan Peters' characters on AHS (up to 7th season):
Peters seemingly had a blast going full on foppish aristocrat with this character (Edward), and I guess it was cool that we got to see him make out with a dude instead of Taissa Farmiga, but we simply didn't get enough time to get to know him.

I'm so, so sad that Rory died after only one episode, because he instantly resonated as Peters' most hilarious character on the series to date (and if you've seen him in the X-Men movies, you know the man is comedy gold). After years of watching Peters play emotionally damaged murderers, it was a thrill to see him take on a douchebag comedic foil … until he got disemboweled by pesky ghosts and disappeared forever 30-some minutes after his introduction. [revelist.com]
Where do I even start?
American Horror Story 7: Cult
Evan Peters is the main reason why American Horror Story is what it is today and the actors' fans are in for a treat on season 7.
American Horror Story: Cult is poised to be the actor's best season yet, with the AHS staple playing several (5? 6? 7?) different serial killers throughout the 11-episode installment.
I do feel like this is his best performance, – creator Ryan Murphy said of Peters.  – For Evan, it's been a great challenge. We pushed him to the limit. [tvguide.com]
In 2016 the actor said:
It's a year-by-year thing. And I would go as long as it goes. I love the show. I love the people who work on it… I've been very fortunate to be able to play a different character every season and I would keep that going forever. [moviepilot.com]
UPDATE:
The seemingly political background of the series and the election aftermath might have discouraged the viewers from watching this season, but I can promise – it has nothing to do with Trump… Trumps' Cult is a joke. Nothing compared to Evan Peters' character Kai Anderson. And if you're a fan of Evan Peters – this is a must-see season of AHS.
Evan Peters as a Comedian? Tate as a Father?
American Horror Story 8: Apocalypse
It's not the first time Evan Peters plays multiple roles throughout the season, but these must be the funniest I've ever seen him do.
Both of his main characters (the gay hairdresser and the geeky tech-genius) seemed lightweight and fun this year. Especially compared to The Cult and Kai Anderson. His new characters are definitely mental but in a very very different way. It's too bad they weren't fully developed and won't be coming back for the next season either.
The other new thing here is that he goes back to act as Tate Langdon after 7 years! And not just about ongoing fan obsession with him and Violet – it's also about his son. With Violets' mother… Really confusing.
My younger brother, the Anticrist, is also my dead boyfriends' son, – Violet could say, if she wanted to write a biography. – I am a ghost fluttering in a house owned by witches' coven. Dead, but stuck here. Forever. With my psycho boyfriend Tate, who raped my mother. She died while giving birth to the Anticrist, also known as Michael Langdon, or my little brother.  There are other ghosts as well: my murdered cheating father, his crazy lover, maid, who was murdered by Tates' mom, my boyfriend moms' lover, that was murdered by my dads' lover, a still-born baby that is also my sibling and many other fucked-up souls just wandering around. All of them – murdered. Most of them – by Tate. The reason my mom died is also Tate. And the reason I killed myself… well, I guess Tate is the reason why we're all here. And yet…
Somewhere in the middle of this season Tate Langdon and Violet Harmon get back together and all is forgiven. And fans are… still not happy. The episode was directed by Sarah Paulson who has been on AHS as an actress since the very beginning. Well… thank you for trying.
Evan Peters: I Pass…
American Horror Story 9: Whatever
Yes. He's not coming back this time. Went on to strike a Pose instead. Not too bad and Evan is great in it. As always.